Whoever you are, wherever you're from, you are welcome here.
At Hernando Baptist, our students are valued as crucial members of our community and our church. God doesn't require us to wait until we are adults to be actively involved in His mission in the world--He consistently uses middle school and high school students to make a difference!
The purpose of our student ministry is to help equip students to do the work of ministry now, and to build up the body of Christ (Ephesians 4:12). In so doing, we want to help them carry out our church's mission of spreading the Gospel of Jesus and increasing faithfulness in Hernando and across the world.
Student Leadership Team Application
If you are in grades 7-12th, striving towards spiritual maturity, and are interested in serving on the Leadership Team in student ministry, please fill out the application below by October 27th. If you have any questions, please contact Larry Dickerson at
[email protected]
.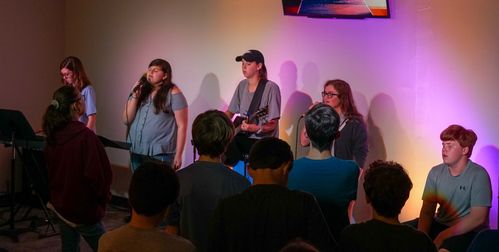 High school seniors and 18-24 year olds are invited to join us as we take a group to attend Cross Conference from December 29th - January 1st in Louisville, KY. The $60 non refundable deposit will be due on October 27th and the final balance of $170 will be due on November 28th. You will need about $80 for meals while traveling. For questions or to sign up, please contact Larry Dickerson at
[email protected]
.
Students come together in small groups, each led by two of our adult ministry volunteers to study God's word in a setting designed to be interactive. This time is for students to build relationships with each other and receive spiritual input from experienced believers who are dedicated to discipling the next generation. Life Groups are a great environment for visitors!
Get Connected. Go Deeper.
Students desperately need revival - a fresh encounter with God that changes lives, behaviors, ethics, cultural norms, and even the structures of society itself. Many seem to be moving further and further from God and His standards. The darkness around us seems to be getting darker and darker. The problem is not with the darkness but with the lack of light. When light shines, it dispels the darkness. The spiritual need is urgent. Let's begin seeking God together for revival in the land.
Student Fresh Encounter groups will be introduced on Wednesday, July 28th at 6pm. Groups will meet each Wednesday, August 4th through 25th culminating on September 1st. Book cost is $5 per person. You have the option to pay in person or online
here
by selecting "discipleship training."